Dropshipping Business is one of the most popular ways to make money online in Nepal. The majority of people are turning to Dropshipping business in Nepal to launch their own online business due to the fact that dropshipping is one of the best passive income opportunities with a low entry barrier.
In this blog post, I'll explain what dropshipping is, what Dropshipping in Nepal is, and how to start with a step-by-step procedure. I'll concentrate primarily on how a side business can help you make Rs.50,000 each month.
Let's dive in:
Table of Contents
What is Dropshipping in Nepal?
Selling things online without managing inventory is possible with dropshipping businesses. You don't need to store, manage, or transport things to your consumers when using this form of order fulfillment.
In other words, dropshipping is a common business model in which a manufacturer creates products, handles inventory management, warehousing, packaging, and distributes goods straight to a client of a firm.
Simply use an e-commerce site or business page to sell your goods online, and take care of all customer support issues.
Check out about how you can work with Dropshipping Nepal
This business has the benefit of being relatively low risk for both the manufacturer and the owner. Dropship models do have one drawback, though: since you are merely marketing the products, you have no control over the packaging or product quality unless you reach an agreement with the manufacturer.
Many business owners in Nepal favor dropshipping over wholesaling for the reason that purchasing items in bulk and setting up a separate location for management and storage is way easier, unlike the traditional retail business model. Additionally, you no longer need to compare pricing and list out delivery services.
Things to Check Before You Start Dropshipping Business in Nepal
Your dropshipping business can be operational in one hour. We do not want you, people, to rush this procedure, though. Like any other e-commerce firm, you need to plan properly, have a strategy, and have a set of tools that hit the ground running in order to maximize earnings and outcomes.
Ask yourself these things:
What does your brand sell? What is the market niche of your business?

Choose a market segment that interests you and makes you enthusiastic about selling when it comes to product marketing. Keep in mind that your customer is king. Your products should satisfy the requirements and needs of your customers. In case you're not sure what to sell or where to begin.

Utilize Google Trends to look for suitable keyword
Do some research on the competition to find out what their best-selling products are and what marketing tactics they employ.
Do some market research to find out how fierce the competition is in your market area. Keep in mind that the objective is to identify a market niche with strong interest but low saturation potential.
Increase your online time - Assuming that you are just establishing an online dropshipping business. You must comprehend digital consumers and the online business environment. Participate in online communities and the conversation there. Observe carefully and consider whether there is a need that isn't being met that you can fill.

What's your unique selling point? What gives your brand a competitive advantage?

How are you going to distinguish yourself from the other Nepali shops that sell comparable goods? What aspects of your website design will make it unique if you plan to launch a dropshipping company with a presence online? In order to compete with the other drop shippers in Nepal, what do you give to your customer experience?

Where is your targeted audience? Will the supplier you choose to deliver the products to your customers at the right time?
How are you planning to start an online business?

You'll need a strong online presence to launch a dropshipping business in Nepal. Create a business page on Facebook or Instagram to get started. After that, you can progressively create your own online store. If you don't already have a website, don't stop there. Prior to creating your website, plan out your marketing approach. You will require lead generation forms, blog articles, email marketing, and many other things.
Red Flags for Dropshipping in Nepal
Here are a few warning signs to watch out for when looking for trustworthy dropshipping suppliers:
You run into a supplier who doesn't know anything about the goods he or she sells. That should serve as a strong reminder to you not to collaborate.
The firm doesn't have a physical address. It's an obvious red flag that it's a con. It indicates that the company is fictitious.
If you can't reach them via phone or email, hold them in person. Never purchase a product from a source that you have never spoken to.
Make sure to check on products as well if you come across product suppliers who sell you branded goods. Infringements of copyright must be avoided.
What is it like to be a dropshipper?
Dropshipping Nepal is a business with a dropship model where business owners can step into e-commerce platforms with zero risk investment. It allows you to deliver your products all over Nepal. The best thing about Dropshipping business in Nepal is it offers a wide range of products for people of all age groups. Also, it has a user-friendly dashboard with no system charge.
Let me share with you,
How can you start a Dropshipping business in Nepal?
There are ample products in DSN ranging from child to old age group products. You can choose which product you want to sell. Add to cart. Then, upload photos and videos of the product. If you want you can run Facebook and Instagram Advertisements. If you are someone who runs an e-commerce website. You can run Google Ads as well. Once you get customers online and an order is placed, the rest of the product delivery is done by DSN.
Sounds easy, right?
Well, Yes and No
In comparison to the traditional retail model, it's really easy to build a successful dropshipping business in Nepal.
You are responsible for:

Manage your online business day-to-day basis.
Sell the product you buy - good quality products.
Develop a good relationship with your customers.
Research top selling products of your market niche.
How much profit can you make from the Dropshipping business in Nepal?
In Nepal, dropshipping is a viable means of making money. The profit margin of dropshipping is minimal in comparison to traditional retail sales. However, I can assure you that making Rs.50,000 a month from a side job is a sizable sum of money and a wonderful time to invest.
In order to earn 50,000 per month, you should receive at least 20 orders per day. Remember, You must know your market niche and what your customer needs are in the present state so that you deliver the right products to the right audience. The DSN products list also includes trendy trends in products that you can offer. t will decrease your efforts in researching about most sold products. Dropshipping Nepal has witnessed sellers receiving more than 60 product orders as well.
Believe me, making money is not an easy endeavor, with the correct time and effort investment, you may direct your energy in a direction where money follows you.
The ability to earn a big amount of money heavily depends on a seller's ability to market their storefront, the size of their dropshipping store, the level of competition in their market niche, and the quality and type of products they choose to sell.
You can ace the dropshipping business industry with strategic marketing plans and strong customer relationships. Make a plan and get ready to provide value to your customers so that they will talk about your brand and expand your customer base.
The ability of a drop shipper to market their storefront, the size of their drop shipping operation, the level of competition in their industry, and the selection of their products all have a significant impact on the rate of profit earned by online dropshipping business owners.
How to Start your own Dropshipping business in Nepal?
There are a few simple steps you will need to go through to be part of Dropshipping in Nepal.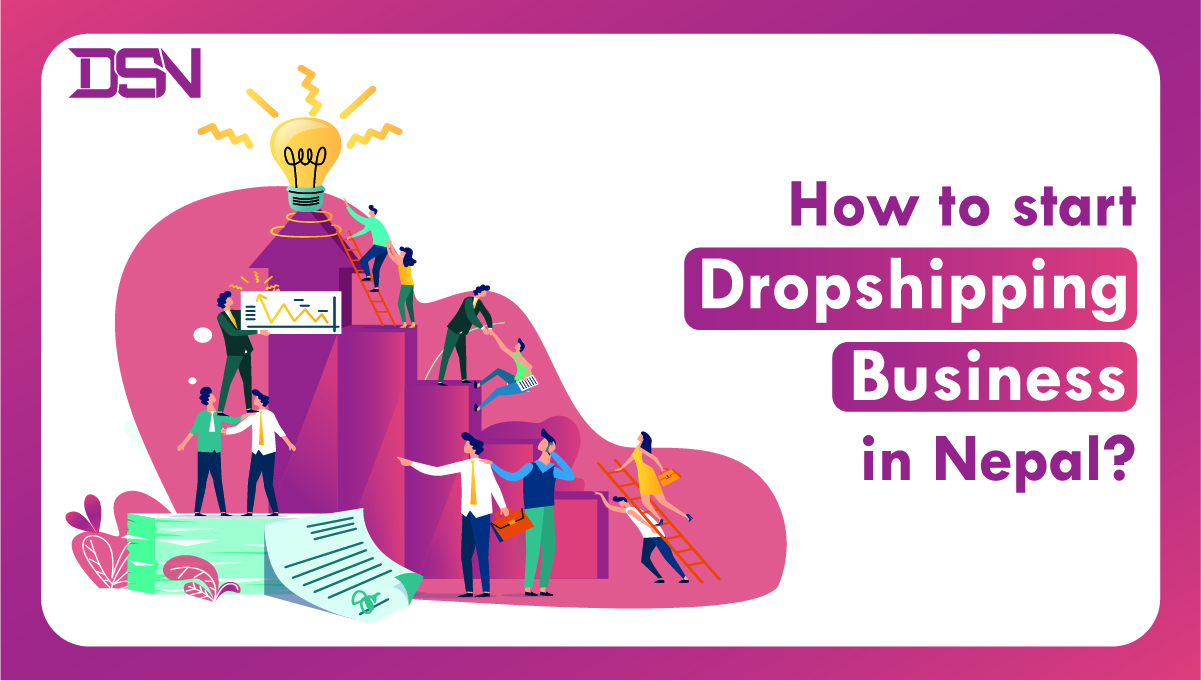 Register yourself on our website. After your registration, it will direct you towards the Dropshipping Nepal dashboard. You can explore our DSN products. Under the Delivery Resources section, you can check the delivery list where you will see the places where your products can be delivered. Similarly, Under Top Up you get a QR code of Dropshipping Nepal. Fill in KYC form. Then, you'll get a call from the Dropshipping customer service team to verify the account. Once you are verified, you are ready to go.
After you read all these if you are interested in starting your own online dropshipping business, Register to Dropshippig Nepal.
For further information, you can find videos on Our Official Youtube Channel. We also post updates on ourFacebook page, Instagram, and Linkedin.