Are you someone thinking of starting your own business and wondering if is it possible to start a business with no investment at all?
Despite having a compelling idea and a strong commitment to success, many business entrepreneurs fail to obtain the money required to establish their businesses. As a result, it shouldn't come as a surprise that startup forums are awash in conversation about opportunities for companies that require no funding.
The ability to turn your idea into a business, create value, and attract a sizable consumer base was not as simple and affordable as it is today. Businesses are now more accessible to individuals thanks to the internet and the internet of things.
Could starting a business with no upfront capital be the best course of action for you? Let's examine them more closely and learn what it takes to launch one of your own.
Instead of the huge capital fund, people management, supply chain management, inventory, and so on. Here, I will walk you through a zero-cost plan to start and blast into the world of the e-commerce world.
Table of Contents
What is a zero investment business?
Any business that doesn't cost money to start up is considered a zero investment business. Technically, if you are establishing an internet business, there can be a few modest business expenditures like domain name registration or virtual office setup.
For people who desire to launch a profitable business with no investment, it can be a perfect entry point. This is in contrast to a traditional firm that entailed inventory, staffing, warehousing, physical office space, and other costs. For those who want to launch a side hustle business in particular.
Tips for Starting a Business with No Money to Invest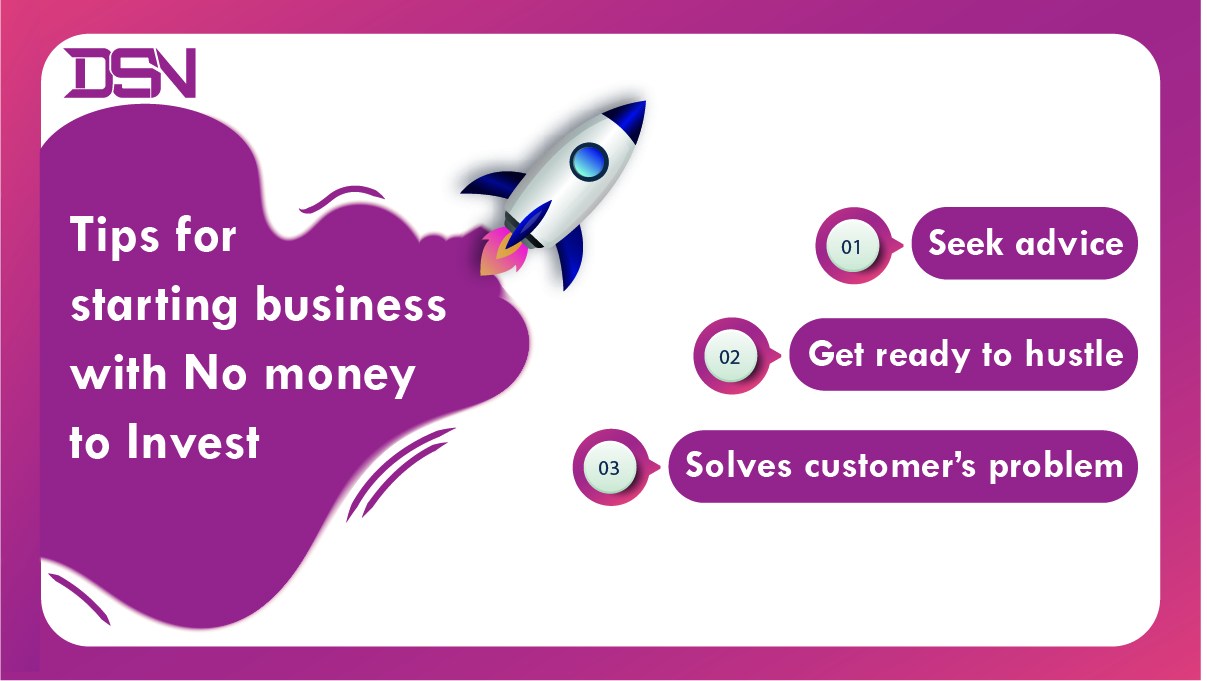 Use of Idea that solves customers' problem

I'm going to presume that if you clicked on this page, you are already motivated to start your own business and know what kind of goods or services you want to offer. Additionally, your enthusiasm and original idea, as well as the future and profitability of your small business, depend on you.

When your passion, skill set, and a problem that needs to be solved converge, the best business concepts are created. Since not all interests are useful or marketable. Find a challenge that requires your present skill set and industry knowledge by doing further research.

Even better, you could advertise a solution to a difficulty you are presently facing. Considering the likelihood that, if you have a problem, someone else will as well and will be willing to pay for a solution.

The best strategy for avoiding fierce competition is to identify a niche. Find a niche market that is both profitable and underserved by other businesses. You can narrow your niche by concentrating on a certain customer group or region, but you can also make your idea stand out by making changes.

Seek advice

Meeting and discussing with those currently involved in the industry is one of the finest strategies to establish a successful venture. Take their counsel to heart. Always seek out a specialist or mentor who excels in the market niche you intend to operate in. He or she should provide advice and aid in your journey through unforeseen obstacles and business-related issues.

Get ready to hustle

Now that there are more eCommerce platforms available, practically anyone may launch an online business. The corporate environment of today is quite competitive, nevertheless. As a result, you will encounter many other businesspeople on your quest to build your own brand who are working around the clock to advance their companies.

The major benefit of dropshipping in Nepal is that there is little to no investment required. If you invest your time and energy in the proper product, you can find success quickly. Therefore, you may be asking how to identify the one product that has a high conversion rate. You will need to conduct an extensive product study in that situation. You will need to require to test numerous approaches to find the product that sales the most.
Start Business in Nepal with Zero Investment
Unsure of where to begin in your desire to launch a business? If you're wondering how one can launch a business with absolutely no investment, read on.
Yes, it is possible to start a business in Nepal with no money down.
I'll now walk you through Nepal's low-investment business. Start your business with drop shipping.
Let's begin with the basics of dropshipping business in Nepal,
It's a company that uses the dropshipping model, in which the retailer buys products at wholesale costs, sells them at market pricing while accounting for his desired profit, and then delivers the items to the consumer at their home or another location they have indicated.
The dropshipping model is beneficial with the product categories mentioned below:
Beauty kits
Lifestyles products
Accessories
Homewares
Technological gadgets and bags
How does Dropshipping Nepal help you start a zero-investment business?
Based on the dropship paradigm, dropshipping Nepal enables you to launch a local internet business with no financial outlay.
Check out the video on starting with Dropshipping Nepal,
The warehouse is not under your control as the seller, and no product inventory is kept on hand. Instead, your focus must be limited to developing a marketing strategy that generates leads and handles customer relations and acquisition. Drop shippers might originate from any country in the world. So please do not hesitate to share with your friends and coworkers.
The advantage of dropshipping in Nepal is that it is a low-cost endeavor. You can also establish a dropshipping business in Nepal without having a registered
Okay, so you want to start a dropshipping business. You have a unique and fantastic idea, and you are confident that you can dominate the market with it. What can you do to take things to the next level?
To get started:
Visit Dropshipping Nepal website
Register yourself
Fill KYC and you are done
After you become the official seller of dropshipping Nepal, what are the necessary steps to be followed,
Step1: Create your online store
Yes, without an online store, how would customers contact you or purchase your goods? It should be very self-explanatory by now. There are a lot of platforms to select from, I suppose. You will need to spend some money on domain registration and website construction if you want to build your own eCommerce website.
To start off, create Facebook or Instagram business page. Add a description of your online store.
Step 2: Invest your Time
This is where all of your hard work pays off. You will need to devote your time and set up your product line if you want to start your own business with no capital. Upload the product's images and videos. On your Facebook Page posts, provide catchy titles and be sure to mention product details.
Step 3: Market, Market, and Market
You must promote your product. Please don't panic; we are aware that this is only a brief instruction intended to help you concentrate on beginning a business with no money. Therefore, we are avoiding paid advertisements like those on Facebook, Instagram, and other platforms.
In the competitive company market of today, social media marketing is a potent instrument. Optimize your Instagram and Facebook profiles. Use the message option when submitting photographs as well so that the post can lead to a conversation with your consumer. Use a gentle voice when speaking with consumers. Online client interaction and conversation is how you complete half of your marketing.
How many products do I need to collect before starting with Dropshipping business in Nepal?
Simply to understand
The total sum of money required for advertising your dropshipping online store:
If you start with organic traffic: Rs 0
If you plan for social media ads: Rs. 700 - Rs. 10,000 (It depends on your skills of ad placements and market understanding)
How do I know that my money is being invested in the right place? How are dropshipping suppliers?
I suggest you test the products by shipping them to your place before dropshipping them to your customer.
This way you know how is the products delivered, the packaging outlook, quality of packaging, and duration of product delivery.
But, if you are out of money currently, you can skip this step if you want
Now, the question is entire blog talks about the zero-investment plan for starting a business but why is it necessary for you people to scan a QR code that demands Nepalese Rs. 9000. It's a security deposit that gets refunded in your withdrawal as the seller from Dropshipping Nepal.